Fri/Sat/Sun 6/7/8/ July 2007 Santander British Grand Prix
The British Grand Prix. !
What an event, Lewis seems to have stretched the crowds beyond anyone expectations
Last year for the race 78,000 people turned up.
For Quali, 80,000 made it to see Lewis grab pole on his last run. The roar from the crowds shook the stands.
The third place in the race didn't meet the crowds hopes, but a good race all the same.
Click the pic to see pics from the race weekend.
Thursday 21 June 2007 F1 Test Day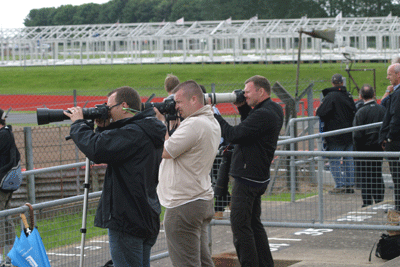 The June test Was a chance for some spotters to see and hear the cars without paying the extortionate prices for race day.
Lots of big lenses and cameras all around.
And the weather held off too. A quick blast of rain during the lunch break was the only down side to it.
The lack of obvoius sun meant we all got burnt
Click the pic to see some test pics
I have resized all the photos to 1024 x 683 and have not cropped any, this is how they came out the camera.
If you want the full size picture (3072 x 2048) mail me the file name and I'll send it.
I managed about 5500 pictures across my visits, so if you want a picture of a specific car / driver I probably have one, let me know and I'll sort one out for you. also got GP2, Porsche cup and a few historic cars, safety cars, helicopters, Red Arrows, busses, track sweepers, flags and crowd.