Bobby Dazzler 2010 Hovercraft Challenge entry
Challenge day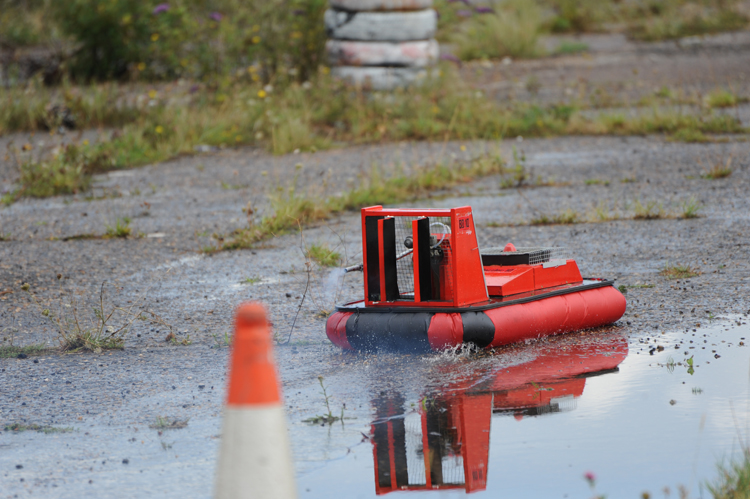 Above and below, the multi surface challenge, the first run of the day, literally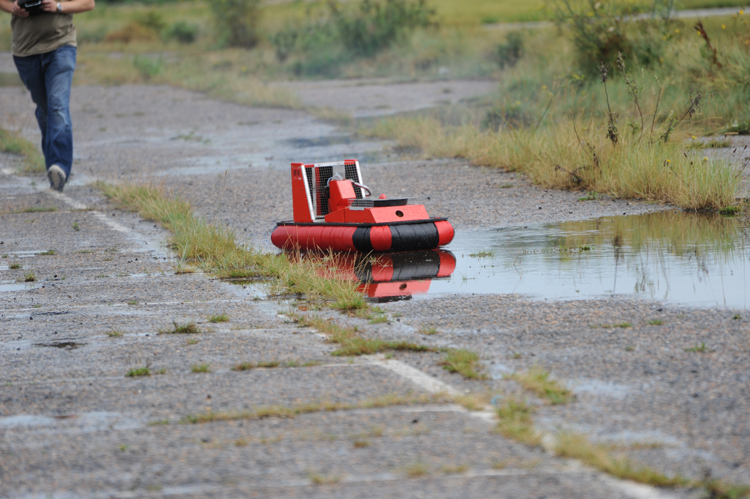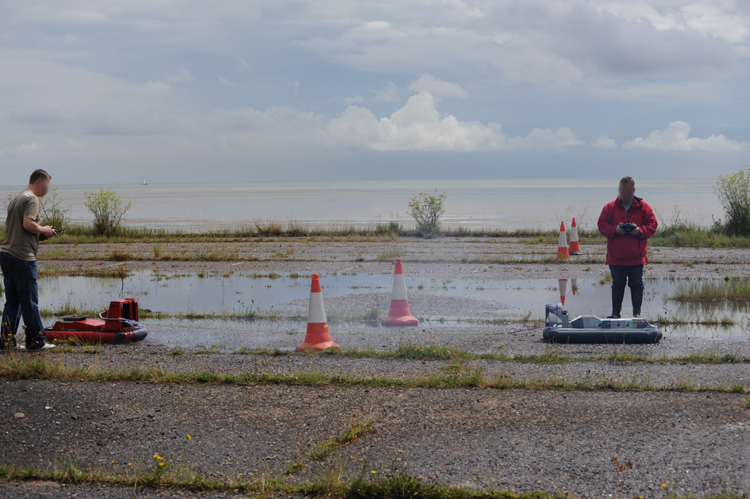 Round one tug of war with WIWITW (above) was a win, but Payntix beat us (below)

Then the manouverability challenge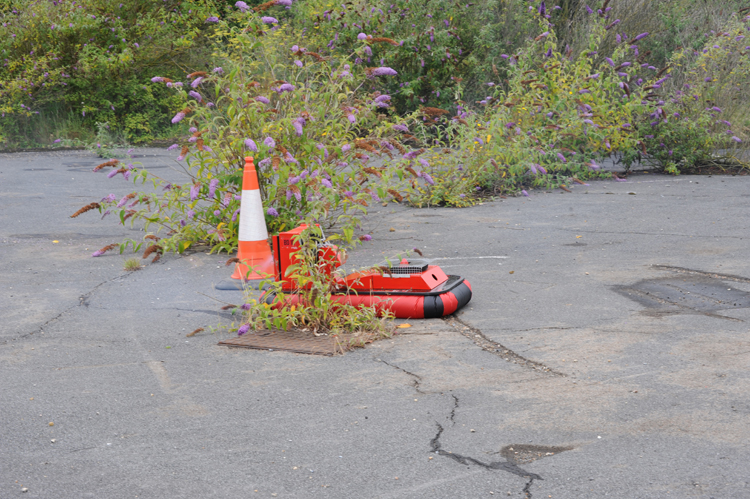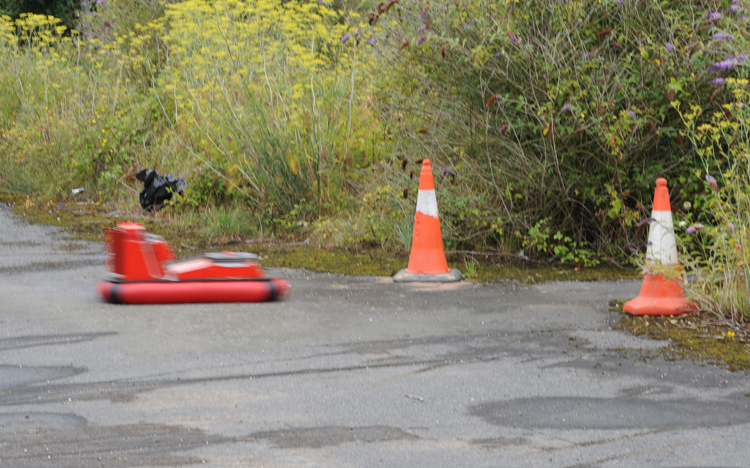 And the final round, the maximum speed,
SPECIFICATIONS
Engine x 2

Engine type

IC OS39

Length

1000mm

Capacity

6.4cc

Width

500mm

Fuel

Glow fuel

Height

400mm

Max RPM

17,000

Cost

£28.00

Weight

8200g

Thrust
10" x 7" pusher prop

Lift

9" x 7" tractor prop
28th May update
Full trials completed, rear engine problem addressed with shortened fuel tank pipe and locktite application to the carb which has been vibrating out of calibration.
All stripped down for cleaning, prep and painting.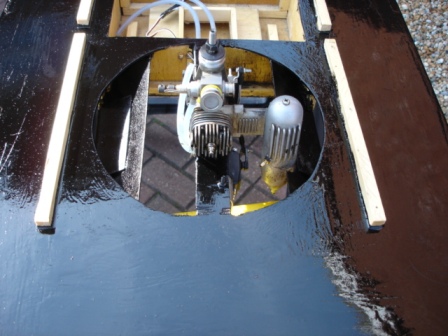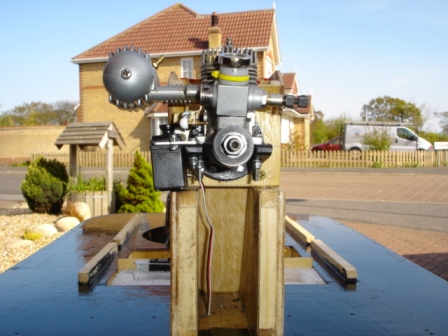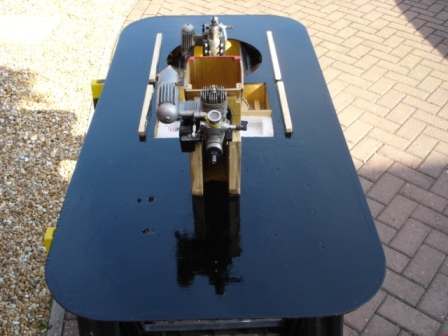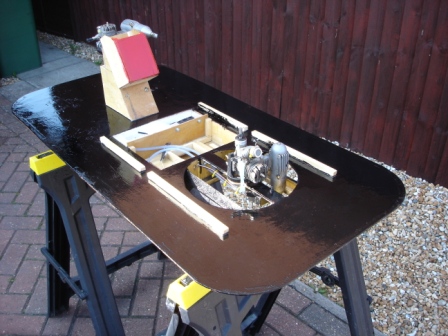 And here's the final colour scheme, you beauty!
New skirt prepared for the race day.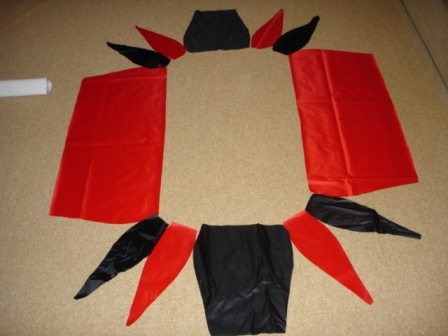 All set for some final testing prior to the big day in June.
1st May Test Session
May day Saturday saw Payntrix, In-a-bit-of-hover and us all visit the sea front for a tarmac trial.
The wind was affecting the performance considerably, but all in all it was a great test, learning to drive and control it. There was a return of the carb problem with the thrust engine, but it didn't impede the test too much.
Payntrix's gps tracker showed a maximum speed of 27kph, but there is more to come once the engine is sorted
Then we went off to try our luck on a pond....
Fantastic, we dried them off and headed for home.
16 April Test Session
Friday 16th saw the first fully operational test session with Bobby Dazzler and Payntrix in attendance. The chosen testing ground was a local unused carpark. The surface for the run was very poor and tested the skirt to the full.
But... despite that it all went spectacularly well. Sure there were a few teething troubles, but all in all a good first test.
Here's the video containt the first controlled flight of the Dazzler, until bully boy Payntrix comes barging through.
And here's the next run where its all under control.
Both teams noted how much the wind affects the hovercraft.
Then off to test on water, where Payntrix bottled it (claiming thrust engine may stall and weight distribution issues) so it was down to Bobby Dazzler to shine the light and lead the way. Getting it in the water and floating was the easy part.
Getting it out needed a helping hand.....
Thanks Arnoud
6 April First hover
Fuel and radio gear installation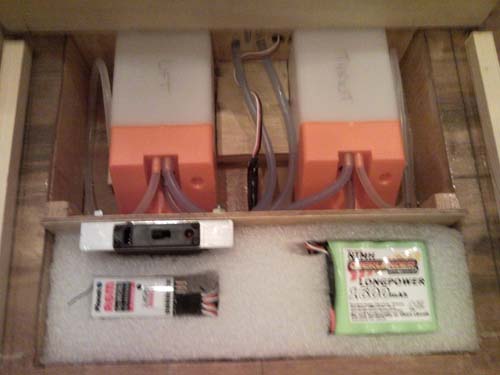 Radio gear cover in place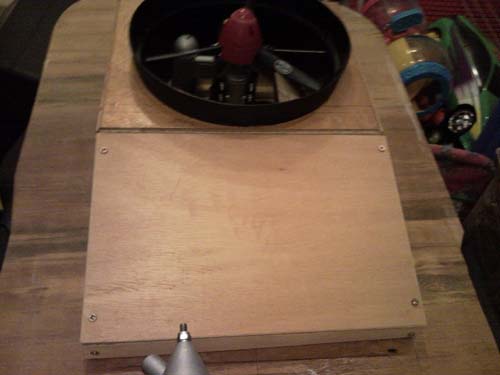 31 March Servo links designed
Thrust engine in position, servo brackets and link arm constructed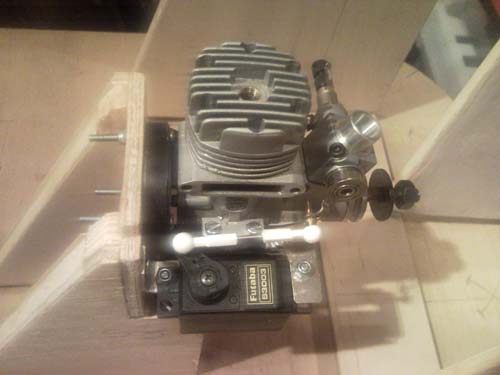 Lift engine in position and servo link ark designed and constructed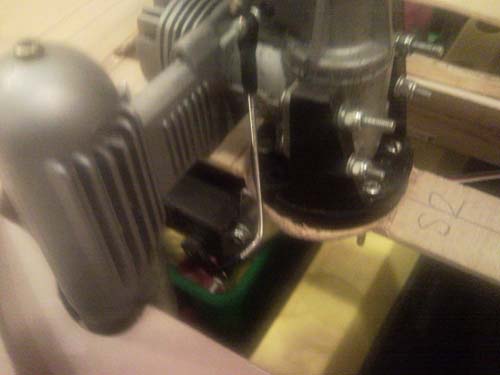 Lift engine viewed from above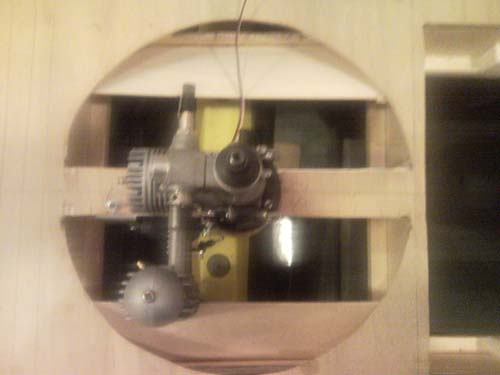 14 March Skirt sections cut out and sewed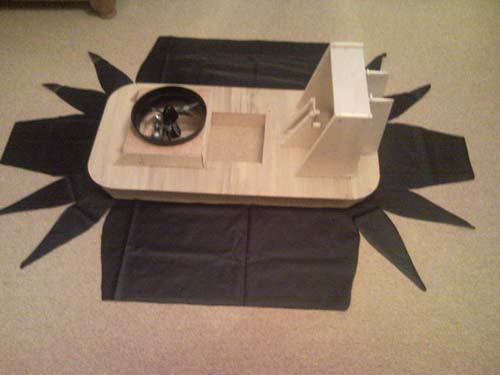 5th March Hull construction started.
18th Feb update - Rudder assembly constructed
9th Feb update - Engine running in
The engine has been attached to a test bed to enable running in and tuning.
Here's the video of it being put through its paces, watch the bamboo plant in the background...
Schedule for running in and race tuning to commence 30/01/2010